June 23rd, 2018
Gators.

Alabama is not the first state you think of when thinking of alligators. But they're here. Years ago they were imported one summer to control a growing beaver population. Experts predicted that winter's cold would kill them all. By the next summer, the gators proved the experts wrong and now they populate the shallows where creeks slowly move toward their confluence with bigger water.

Piney Creek is like several rivers in North Alabama that flow toward inevitable confluence with the Tennessee River and its big impounded lakes, Wheeler, Guntersville, and Wilson.

I had heard stories of gators in the creeks feeding Wheeler Lake. Wanting to see if there would be an island of gators inhabiting the wetlands and river confluence, I drove out to the Pryor community, near the banks of the Tennessee River and its dammed lake, Wheeler. Dusk crept in gradually from the west and the water began losing the white sheen of a brilliant summer sky now slowly darkening. As the clouds began catching the sun's setting color, the water became quiet and glassy, reflecting the sky, the river birches and Southern pines, and the shrubs that line river banks and lend cover to waterfowl and fish.

I shot a picture of Piney Creek under the lowering clouds. The yellows and golds melted into deeper blues of the sky reflected in the quiet waters. A wedge shape, formed by the clouds, points across the water toward the green treeline, toward the long island where herons, cranes and maybe alligators hang around awaiting the night's darkness.

To create the final image, I used the photograph as a starting point in re-painting the scene in Corel Painter software. A long-bristled acrylic brush played the leading part and other digital brushes helped bring out the color and abstraction of the landscape.

I love color and visual mood, maybe a little bit more than gators.
June 13th, 2018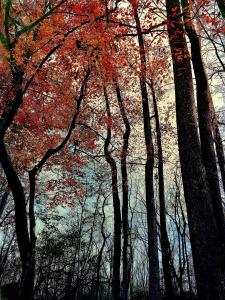 Inside city hall, planners draft what become, years later, walking paths. These paths hold uncounted value for their visitors, the city residents, their neighbors.

You stretch your legs along these paths, or run, or bike. But slowing down--not your pace but your sight--you see something planners maybe missed or simply didn't think to advertise: art and light.

In light and shadow, these paths run for miles. They cut through a gallery, unintended perhaps, that's walled by red maple, river birch and sassafras. Or walled by tangled brush, farms and fields, gentle riversides. Or accented by a river, by a river's unending ribbon of leaves, by its continuous stream of reflected sky.

What art deserves a place on these gallery walls?

Winter's gnarled silhouettes, springtime's neon yellow-greens, summer's melting pot of leaves, and, of course, autumn's bath of golds and reds.

And yet to many, they are simply trees, trees along a path.